RWMF Day 3 & 4: Saturday 12th & Sunday 13th July 2008


You can read Part 1 *here* and Part 2 *here*
This time around, i'll let the pictures do all the talking.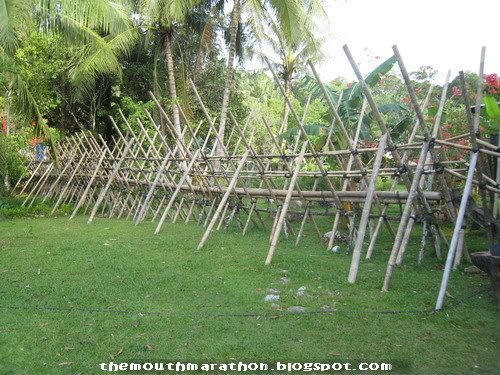 I call this the Fish Bone.
Myself walking through the "Bones"
Ah Nee sempat berposing some more :P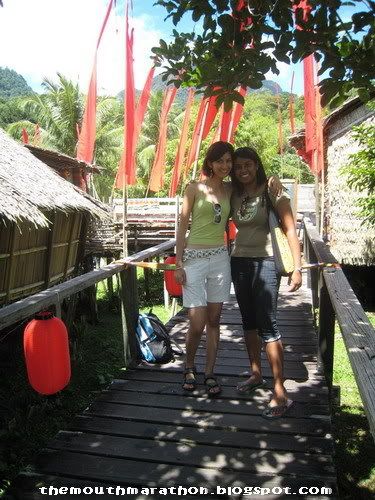 I love the backdrop of the place. It's actually a bar which opens at night with the cutest plush pillows thrown all over the place. It has a very welcoming, cozy ambience with really simple decor. I guess Less is More.

Being Miss Paris Hiltons with Ah Hua
Check out the dude's hair! I bet he used an entire bottle of gel to get that look!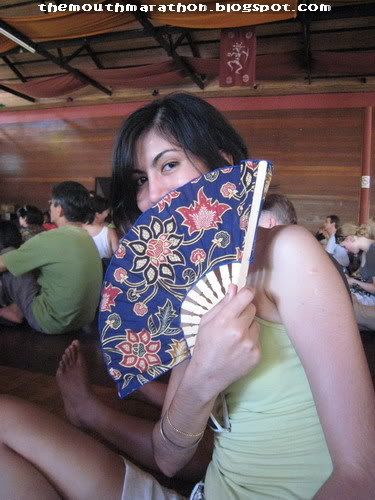 Thank god i had a fan with me, comes in really handy with the sweltering heat!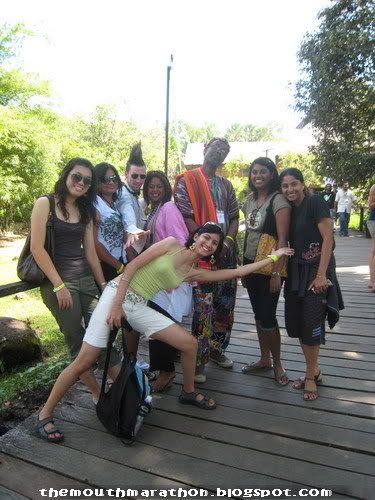 With the Hair Dude and the musicians from Kasai Masai
With Duggy!! That's the amazing part about Rainforest, it brings people together. I've known Duggy for almost 2 years coz Mr G-5 talked about her quite a fair bit. We're on each other's Friendster and Facebooks but have never seen each other face-to-face until here in Santubong! How cool is that?!
Right before getting my tattoo! Oh and the tattoo artist was really friendly and we were chatting away. Pity Ah Hua coz her artist was literally mute!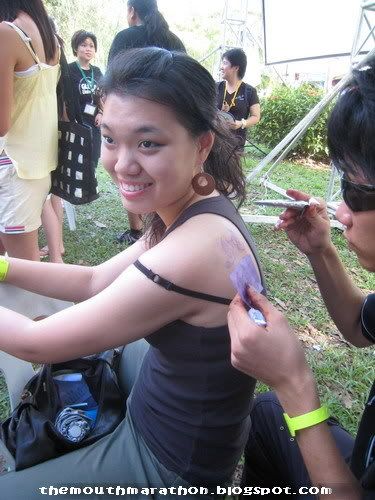 Ah Hua getting her henna tattoo done
How her tattoo looks like
I'm in love with a VJ - with Dominic!! Aiyoh, this woman ah took forever to go up to him to ask for his picture. But its totally worth it. Ah Hua couldnt stop smilling for the rest of the night!

Booking seats. We get to the field area about one hour before the show starts to get fantastic Gold Class Seats :)
The Rainforest Balloon. Doesnt it look like a moon? I want one for my room too!
Ah Ren and Ah Hua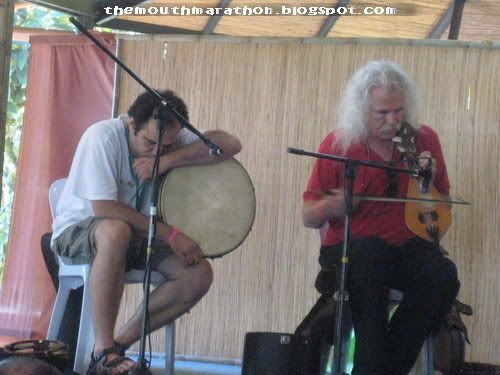 This dude was actually sleeping while waiting for his turn to perform during the Accoustic Guitar Heroes workshop. It was so funny seeing him nodding off while in full view of everyone in Dewan Lagenda!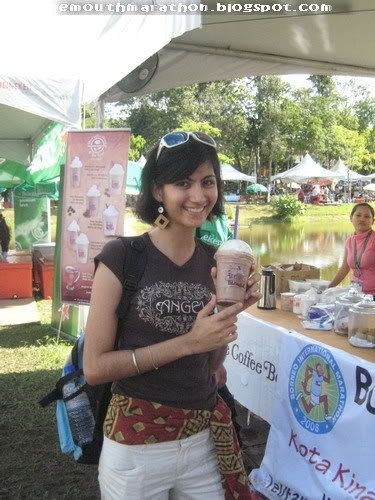 Oooh, the so very sinful Coffee Bean Mocha Frappucinno. It kept me pumping till the wee hours of the morning. I dont know whether it was just me (coz i havent had coffee in forever) but the coffee there tasted extra EXTRA good.
Audiences were invited on stage to learn the Kelabit Dance during the Drums and Dancing Workshop. It was the most happening and super packed workshop i attended. Even i couldn't resist from thumping my feet and eventually joining the rest on stage to dance :)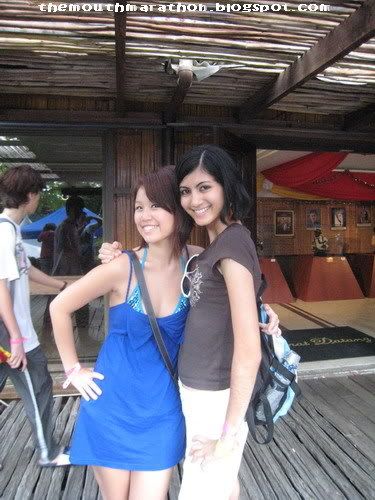 With Su Ann of Pink Pau.
With Kenny Sia. I tell you this fellow, he was so freaking shy to dance when we were near the stage dancing that night. Dancing not his thing he claims. Hehehe. I pulak dance like crazy!!
With our new friends Esther and Sabena
Near the stage where all the action was taking place
The whole entire big gang!
The Dancing Kaki.
Right as the music was getting more groovy, it started to rain so the whole gang quickly rushed up to Dewan Lagenda for shelter. But after awhile, i got really agitated just sitting there. I spent good money coming here (ok la, technically my parents paid, but still!) and I dont plan on going back without dedicating a decent amount of time to dance. So i kicked off my shoes, and passed all my valuable belongings to dearest Ah Nee for keepsake while i joined the crowd in the World Festival of Mud. Here were the bunch of people i went with while the rest were squirming about the rain and mud. But guess what, i think i must have been superly lucky coz within minutes of being out, the rain completely stopped! Yippee!!!
The rest joined the dancing but at a different corner from Sabena, Yazid, Superman and myself. While dancing, we made more friends and guess what, i had no idea we all stayed in Singgahsana until the next morning when they were checking out. Small world indeed! Yazid squeezed and squirred his way through all the way to the front with me following him close behind. We were right in FRONT of the stage during the last dance. The adrenaline rush was exhilarating!
Verdict: The music played got better over the days with the best night being Sunday. I think if i were to come back again, i'll probably skip Friday's show.
Ultimately, i had an amazing time in Kuching and Santubong. Meeting up with my friends, the yummylicious food and the addictive Teh C Peng Special which i totally miss, the company of new friends i made everywhere i went, the atmosphere people share over beautifool music, all these add ingredients to a very savoury holiday.
Like the dude from Kasai Masai says, "I love this beautifool place, with its beautifool people and beautifool music." (yes, he says beautiful sounding like fool at the end of the word). Aawwww