RWMF Day 1: Friday 11th July 2008
You can read Part 1 *here*
I was woken up by a cheery voice on the phone, it was Ah Hua who just landed in Kuching. We met up for breakfast at Choon Hui Cafe, voted the best place to eat Sarawak laksa by Kenny himself. I had no idea about this until I came back and saw his post on this year's Food Awards of Kuching!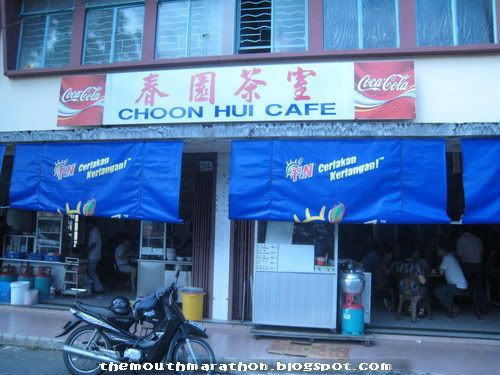 Choon Hui Café, next to Grand Continental Hotel, or a cab ride worth RM7 from my lodge.
The famous
Sarawak
laksa which left me wanting more.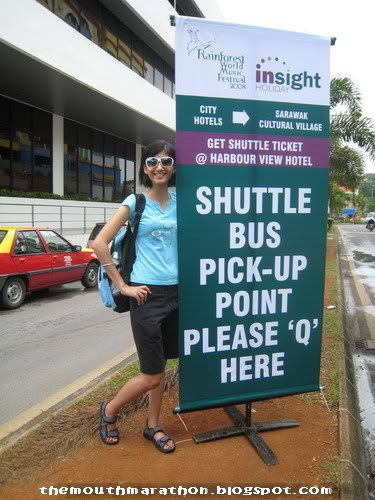 Waiting for the shuttle bus. There are certain spots along the designated route to pick up passengers from all major hotels. Singgahsana Lodge is located directly opposite Harbour View Hotel, it was practically 10 steps away from our doorstep. The shuttle bus are hourly of RM10 per way to Sarawak Cultural Village. The services were excellent, the busses comfortable with their reclining seats and punctual.

Some know how to get real comfy in the bus.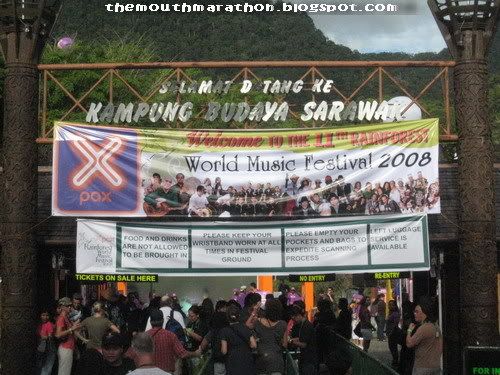 The entrance of Sarawak Cultural Village (SCV)

Rumah Orang Ulu, one of the many houses in SCV. This house can only accommodate 50 people at one go as a safety feature.
I was so excited seeing the gamelan set (a jawanese orchestra, I learnt to play all the instruments of the gamelan in uni) at the Craft Centre as it is very uncommon. The difference is this set is made of bamboo instead of brass. Here's a guy playing the gambang while I sang the original version of Rasa Sayang. Did you know the song originated from
Indonesia
?

The stage from where I sat

Just as it started raining. I stubbornly wanted to stay out but in the battle between the Rain versus Ohkulala, the rain won when my entire butt was soaking wet.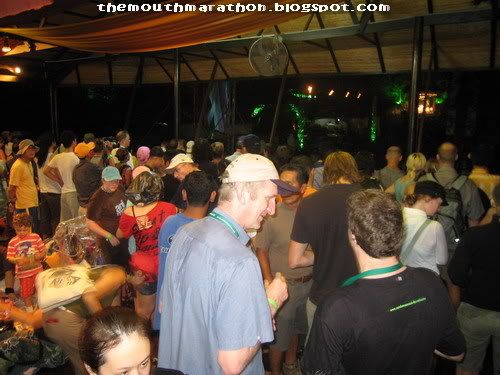 People seeking shelter at Dewan Lagenda from the rain

Children do know how to make themselves happy in all situations. This girl was contentedly playing with her crayons and colouring book in all the hoo ha of the rain and hundreds of people around her.
Couples all lovey dovey listening to the instrumentals of Rose Daly.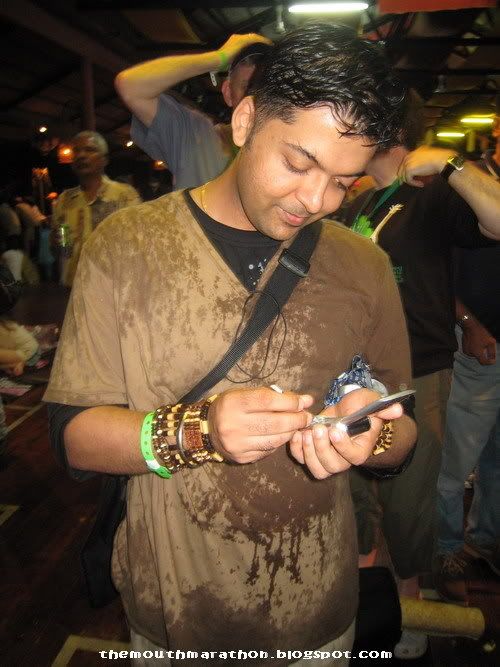 Rain or shine, superman is always the hero on the phone. Lol

It was so "hot" during the rain, a girl decided her bra was sufficient.
Verdict: The rain did a lot of damage to the field, it eventually became nothing but a huge pool of mud. I was rather disappointed with the performances as most were rather boring. The only one which did justice and deserved a big pat on their bag is Akasha from Malaysia. In superman's words, they were the rock band of Indian classical music and I completely agree.