Pre-Festival: Thursday 10th July 2008
The first thing superman and I did upon landing and checking into our beautiful Singgahsana (will talk more about this in another post) is to go around Kuching itself. Being located in the heart of the city was excellent as most places are within walking distance. It is during our mini exploration that both of us noticed we were being stared at. People of Indian descendant are rare in East Malaysia hence all the attention.
Need prove you're really in Cat City? Look at the amount of cat figurines available at the shops! There is no mistaking we're in Meow Meow Land.



Cats cats cats

A Chinese Temple directly opposite a food court where we ate lunch
If you come to Sarawak, you have to, totally absolutely must eat their Sarawak Laksa and Kolo Mee and drink the The C Peng Special or else shoot yourself dead *laughs*. Coz if not, you did not come to Sarawak. So that's what I had for lunch.

Teh C Peng Special. This is a three layered tea drink of tea essence, sugar water and ideal milk clearly separated in the glass and it was super yummylicious. I drank Teh C Peng Special for every single meal there, it's that good!
My friend Bee and her friend Hana were actually on the same flight as me but they arrived late so they had re-purchase their tickets and take the next flight over. While a good RM350++ was gone for the tickets, they made a new friend Jie who sat next to them who parted ways at the airport. While checking in their hotel, Bee and Hana bumped into Jie again! This time around, he invited us over for dinner with his Kuching friends. Our group expanded from 2 to 4 to 10 people in a matter of a few hours!
In the meantime, Hana, Bee, Superman and myself decided to go for the River Cruise. Here's a trick to getting cheaper tickets, don't buy them at the jetty as they cost RM60 per pax. While looking for a makan place for lunch, we actually passed the ticket office and with my amateur bargaining skills, I scored four tickets for RM45 each! The cruise lasts 90 minutes with snacks provided and a cultural show.

Ate dinner here with our expanded gang. The restaurant is located at Crowne Towers.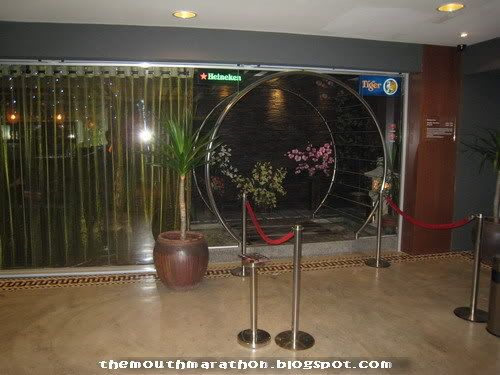 Enter Entertainment Karaoke Lounge where we sang our hearts out.

Expanded gang: Bob, Jie, Esther, Sabena, Bee, Superman, Ohkulala, Hana, Gie
It is amazing how small the world is. While talking over dinner we were all surprised at how many mutual friends we had despite coming from all sorts of places. Hana knows my roomie's bf as they work in the same company. Jie is also from Melaka and knows my classmate Rui Yee from uni as they were from the same high school. DD knows Esther and Jie as they both study in RCSI in Ireland. Sabena knows Li Shun whom I met at Pow Wow Camp as they are classmates in IMU. It felt like a Facebook network just built right in front of us.