Day 3 (Sunday, 18 May)

Off to KL. Had lunch in Aunt Sugar's place before heading off to 1Utama with the cousins. Big J drove, Middle J was the co-driver while Sista B, Sista S, Lil J and I squeezed at the passenger seat. In times like this, I'm glad we're all thin. Lil J was hungry so we all got ourselves Big Apple doughnuts. Yummy yummy.
Big Apple Doughnuts


I loved my Chocoring, it was rich and left me wanting more. As usual, I never fail to get chocolate smudged on my face and all over my mouth. Everyone had a good laugh at how the oldest amongst us was the messiest eater. Well, the kid in me comes out more often, what more can I say.

Walked all over 1U till our legs felt like they were going to detach from their sockets. Got myself a white frilly top. Sista B, Sista S and Lil J preferred the other dress I tried on but I'm very into white so I stuck with what I liked better. Afterall, they cost the same so I might as well get what I like. Sista S and Lil J also tried out some outfits.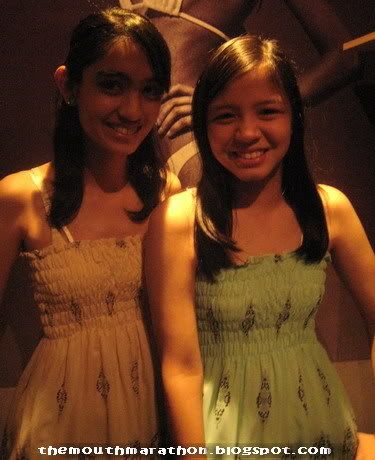 Sista S and Lil J

So we then drove all the way back to our side of town to have dinner in Pavilion's food court. I must say, I like the atmosphere there, it is cosy with the warm lights and unlike most food courts, it is not so noisy despite the number of people around. There were also ample seats and the variety of food immense. I was in the mood for tom yam so I headed to Thai Food for Tom Yam Beehoon. It had a lot of ingredients but the tom yam didn't have the kick I was looking for. The soup was watered down, probably coz it was night already.

I highly recommend the toast from Toast Box. It costs around RM3 and it tastes much better than the ones you get in Old Town Kopitiam. We finished the two sets of toast we ordered (kaya and peanut butter) within 5 minutes, that's how delicious they were. The peanut butter especially was heavenly; it literally melts in your mouth. The toast here isn't those on the thin bread, it's as thick as the French toast from Old Town.

We wanted to catch Prince of the Caspian but tickets were sold out for the 10.10 pm show and selling out very quickly for the 11.15 show. So we headed home. Ended up chit chatting till 2 am.


Day 4 (Monday, 19 May)

Aunt Sugar's room is pretty dark with the curtains drawn. I woke up thinking it was 8.30 am to find out it was already 11am. Had meehon for breakfast and an hour later lunch. Dad dropped me off to Ah Kie's place around 3pm. The rest were off to my cousin's birthday party. Ah Kie's mum was so sweet to pack me food for dinner. She made sambal petai but I don't eat petai. So I got the chicken sambal, egg and veg. *Thank You Aunty*

Due to the recent clam on Konsortium buses, I noticed all buses stuck to the third lane on the highway on my way up to KL. So when Frank and I boarded our 6.30pm bus, we were expecting to arrive at 10.30pm coz that was how long Frank took to get from uni to KL on Thursday. Ironically, despite keeping on the slow lane pretty much throughout the journey, we arrived in campus at 9.30pm.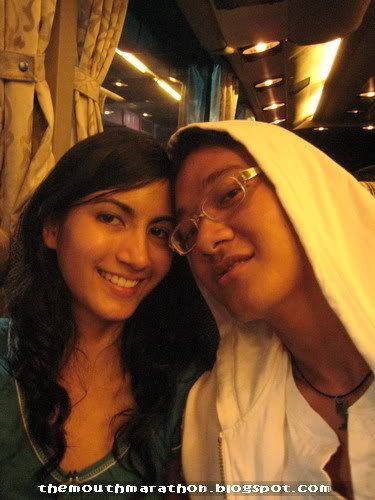 Ah Kie and I in the bus

Halfway through the journey, I woke up and had trouble going back to sleep. From then onwards, I kept smelling the sambal from the food Ah Kie's mum packed. However I think I was only imagining it coz the food is sealed tight in a plastic container and previously I did not smell anything. So I had to be imagining it which got me hungry after while. Hehehe…

So after a very nice weekend from all the superb food (which I hope would beef me up), great company, lovely things I bought, I'm back in Cowboy Town Uni. I think having a big gap like this is a bad idea. To first start studying for the earlier 2 papers took a lot of conscious effort and after the break, the momentum is all lost. So wish me all the best getting into the mood for my final paper.

I hope everyone had a great weekend. I missed the Wesak Procession in Melaka but anyone did go, I'd like to hear all bout it.